The Writing Desk allows you view and rename Descriptive Books and Linking Books, view, rename and reorganise Notebooks, and copy Symbols from both. By writing your own Descriptive Books, you can lessen the risk of instability in your Ages.
Recipe
GUI
The left side of the Writing Desk has 25 tabs to store Descriptive Books and Notebooks.  The selected tab will display its symbols to the right in the large viewing area.  Notebooks can have their pages moved freely around this space, or placed neatly by moving the page to the tab holding the notebook.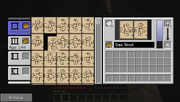 The top right side of the Writing Desk is where the
paper
and
ink vials
for copying Symbols is placed.  To copy a symbol from the left side, right-click the desired Symbol and it will appear next to the text entry field.  If a Notebook is placed in the same slot, symbols will be copied directly into the book, and a title can be assigned.  Descriptive Books can also be renamed here, and if it has not yet been visited, blank pages can be filled with copied Symbols.  The vertical bar on the right side shows the desk's ink level.  When empty, it will automatically consume the ink from an Ink Vial in the upper right slot and place the
bottle
in the slot below.
Community content is available under
CC-BY-SA
unless otherwise noted.