Sticky Resin is one of the most important items in Industrial Craft 2. Its main use is to be smelted or extracted into Rubber. Rubber is required for cables, and thus, most machinery.
Sticky Resin grows on Rubber Trees, and is visible as an orange dot on the tree's trunk. A Treetap or an Electric Treetap is required to harvest the Sticky Resin. Sticky Resin can then be smelted to provide one Rubber per Sticky Resin or extracted to produce three Rubber per Sticky Resin. Once harvested, there is a chance that using the Treetap on the spot where the dot was will produce more Sticky Resin, but at the cost of depleting that spot of Resin forever, as well as more wear on the Treetap.
Cutting down a Rubber Tree has a chance of producing Sticky Resin, even if a deposit was not available on the block. If Rubber Wood is placed in a Sawmill, there is a 33% chance that Sticky Resin will be produced as a by-product. Finally, through crossbreeding, Sticky Resin can be grown on Stickreed.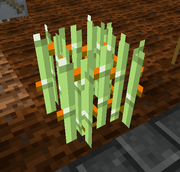 Aside from being refined, Sticky Resin can also be placed on the ground. It will act similar to Soul Sand, reducing fall damage and slowing players and mobs who walk across it. When mined, there is a 10% chance of the placed Sticky Resin being destroyed.
Recipe
Usage