The Redstone Energy Cell uses Molten Redstone to store BuildCraft energy (Minecraft Joules). Input and output amounts can be configured, both allowing up to 100 MJ/tick to either be put into the cell (input) or how much the cell gives out (output). It can hold up to 600,000 MJ.
Recipe
Interface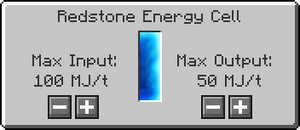 If dismantled (Sneak + Activate) with a BuildCraft compatible Wrench or Crescent Hammer, the energy will remain contained in the Redstone Energy Cell. Using a pickaxe will lose all the energy stored in the cell.
Community content is available under
CC-BY-SA
unless otherwise noted.