The Pulverizer works in much the same way as a Macerator from Industrial Craft 2, but it uses Minecraft Joules instead of EU to pulverize things into a powder. It will also work noticeably faster than the Macerator, but slower than a Rotary Macerator.
It will turn one block of ore into two pulverized ore. They can then be smelted into ingots, effectively doubling your mining profit.
Unlike the Macerator, the Pulverizer has a chance to sometimes produce a byproduct in the Secondary Output slot. The energy cost for each operation will vary depending on which material is being processed, also unlike the Macerator.
The pulverized items are interchangeable with the dusts from IndustrialCraft 2.
The Pulverizer takes a Buildcraft or Thermal Expansion engine to operate, rather than IndustrialCraft 2 cables.
NOTE: Works with logistic pipes by using the configuration tab.
Recipe
Video Tutorial
http://www.youtube.com/watch?v=gY37jaOo2Mw
http://www.youtube.com/watch?v=SHREZ0d0p_A
Items usable with the Pulverizer
GUI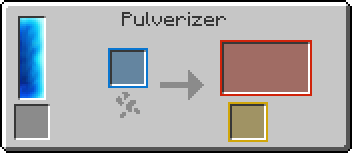 Energy & Configuration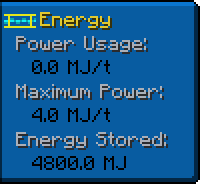 In the configuration tab you can set up the input/output faces. The front cannot be an output.
Bugs
Like all Thermal Expansion machines, attaching a Redstone Pipe to an output will delay the output, slowing down the machine.
Community content is available under
CC-BY-SA
unless otherwise noted.