The Magmatic Engine consumes lava to produce BuildCraft energy (Minecraft Joules). Will reduce power output (and fuel consumption) if not enough energy is being consumed. It will shutdown if it can't output energy.
Power Minimum / Maximum: 0.4 MJ/t/4.0 MJ/t. Generation efficiency is 90% MJ value of lava set in configuration file, so default is 18,000 MJ / 1000 mB of lava or 18 MJ/mB of lava.
Converted via Energy Bridge this Engine produces over 40.000 EU per Bucket (more than double of the Geothermal Generator from Industrial Craft).
Using a crescent hammer or a BuildCraft wrench you can turn it back on when it over heats. Unlike other engines such as the combustion engine or the stirling engine, magmatic engines do not explode, instead they keep on working.
Recipe
GUI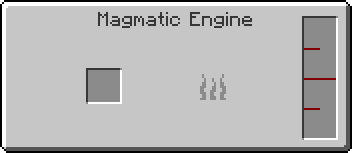 ==Videos==
Community content is available under
CC-BY-SA
unless otherwise noted.