The Liquid Tesseract is a block added by the Thermal Expansion mod in Tekkit Lite.
A Liquid Tesseract is similar to an Ender Tank or a Phased Waterproof Pipe in that it can move liquids from one place to another - even across dimensions.
Liquid Tesseracts can interact directly with tanks or other adjacent storage liquid storage devices as well Buildcraft Waterproof Pipes and Liquiducts.
Note
For a comparison of remote transport options, check out the video below.
Recipe
Video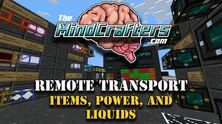 Community content is available under
CC-BY-SA
unless otherwise noted.