The Laser is a block used to power an Assembly Table or Advanced Crafting Table.
When supplied with power (MJ), the Laser will be able to power any Assembly Table or Advanced Crafting Table provided there is no more than 4 blocks of space between the Laser and the table(s). When a table has something to create, all the Lasers within a 5 block radius will shoot out laser beams, that connect to the top of the table. Multiple Lasers can work on a single table and similarly a single Laser can work on multiple tables.
The Lasers have 4 different efficiency stages, represented by the colour of the lasers' beam. They are:
Yellow

Green

Blue

 (Most efficient)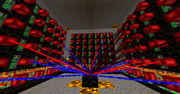 They also have a small internal energy buffer, that can keep the Laser running for a couple of seconds if its power has been cut off. The maximum power requirement for a Laser is 4MJ/tick.
Lasers can also work through solid or transparent blocks and at any rotation (but not if the bottom side of the Laser is facing the table).
Recipe
Video Tutorial
Community content is available under
CC-BY-SA
unless otherwise noted.