The Item Tesseract is a block added by the Thermal Expansion mod in Tekkit Lite.
An Item Tesseract is similar to an Ender Chest or a Phased Transport Pipe in that it can move items from one place to another - even across dimensions.
Item Tesseracts can interact directly with Chests or other adjacent storage devices as well Buildcraft Pipes and Redpower Pneumatic Tubes.
Note
If you send items through an item tesseract channel without an exit, the item will just drop out of the BuildCraft pipe, or flow around in the Pneumatic Tube.
For a comparison of remote transport options, check out the video below.
Recipe
Video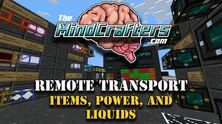 Community content is available under
CC-BY-SA
unless otherwise noted.