The IO Expander is connected to the CPU by Ribbon Cable on one side, and to Redstone input and output by Bundled Cables. One side will only connect to Ribbon Cable, and the opposite only to Bundled Cables; the Ribbon Cable side is facing the player when the IO Expander is placed. On the Ribbon Cable side, there is a monochromatic red display; active output bits are lit.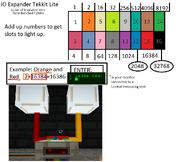 The CPU can read and set Redstone signals for each individual cable colour in the Bundled Cable attached to the IO Expander. Multiple IO Expanders can be used; in this case it becomes necessary to make sure that they have different Redbus IDs. If the same Redbus ID is used, generally only the closest IO Expander with that ID will be 
functional. To check or change the ID, one must Shift + "Right Click" with a Screwdriver or Sonic Screwdriver to reveal 
the Redbus dialog. The computer can read and write to only one IO Expander at a time, but they maintain their output
states while the computer uses a different one.
Recipe
Bugs
The RedBus GUI does not seem to open when using either the Sonic Screwdriver or Screwdrivers, like how it used to open on Tekkit Classic.