This addon module allows you to stop and turn around the cart when riding it.
Recipe
Stats
| | |
| --- | --- |
| Modular Cost | 12 |
| Construction Time | 59s |
Interface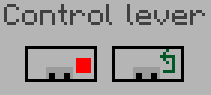 You need a seat module to use it.
When you open the carts interface you will see two buttons.
The left button lets you stop or start the engine. When you click the button the red box will change to a green arrow and the cart will stop (not in slopes). Hit it again and it will turn back to the original state. The right button lets you toggle what direction the cart is going.