The Book Binder is the block required to make Descriptive Books, using at least one leather and any combination of symbols or paper.
Recipe
GUI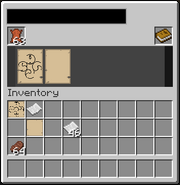 The interface consists of a text field for naming the book, a
leather
input slot, the book output slot, and the page layout.
To make a blank Age, place at least one leather in the left slot, then place one or more pieces of paper in the layout, creating a page for each piece, and remove the completed book, but be warned that books missing key Symbols are unstable.  To make a stable age, you will need to find the Symbols hidden in the various dungeons, dimensions, and unstable ages that you discover.  Once the Descriptive Book is lifted from the output slot, no more pages can be added, but symbols can still be written to blank pages using the Writing Desk before the age is visited for the first time.
Community content is available under
CC-BY-SA
unless otherwise noted.