Assembly Tables are required to produce numerous specialist BuildCraft items including Redstone Chipsets , Pipe Wires and Gates. In order to operate they must be powered via one or more Lasers, the more Lasers are used to power it, the faster it will craft items.
Items produced by the Assembly Table will pop out the top of the table, but, if a Chest or transport pipe is adjacent to the table, all produced items will be placed in them.
Recipe
GUI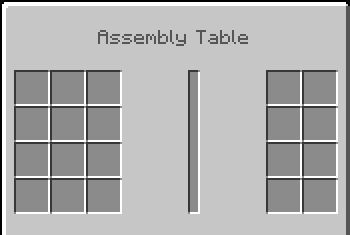 Right clicking on an Assembly Table will open the GUI. On the left hand side is the area to put crafting materials, when it contains the materials needed to craft an item, the output item will be displayed in the right hand side.
Clicking on an item in the right side will select it for crafting, clicking again will un-mark it. If multiple items are select for crafting, the assembly table will cycle through them. The item being produced will be highlighted in red and any queued items will be highlighted in a darker red. Progress towards the item being crafted is displayed in the bar in the center of the GUI.
Video Tutorial